BERNETTE 33 FEATURES
The Bernette 33 mechanical sewing machine with stylish Swiss design is the perfect model for beginners.
Its simple operation makes it easier to learn the basics of sewing.
This machine is durable and robust with excellent stitch quality and all the functions a new sewist will need.
All the settings can be adjusted by turning the two knobs.
The Bernette 33 offers 15 stitches, including buttonholes, and has a maximum stitch width of 5 mm.
The 2-step presser foot lift, the needle threader, and the manual thread cutter make it easy to thread the machine and get started.
5 different snap-on presser feet are included with the Bernette 33.
PRODUCT SPECIFICATION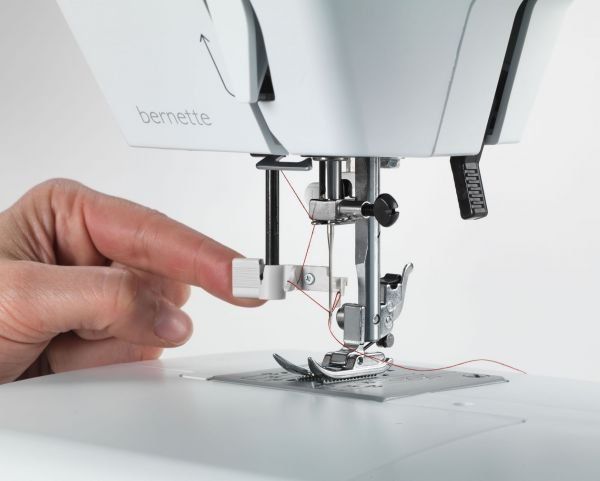 SEMI-AUTOMATIC THREADER–THE QUICK AND EASY WAY TO THREAD YOUR NEEDLE
The semi-automatic threader of the Bernette 33 takes all the hassle out of threading your needle. Complicated threading is a thing of the past as the threader simply catches hold of the thread and pulls it through the eye of the needle. This means the Bernette  33 is ready to go in seconds and you can get started on your creative sewing project.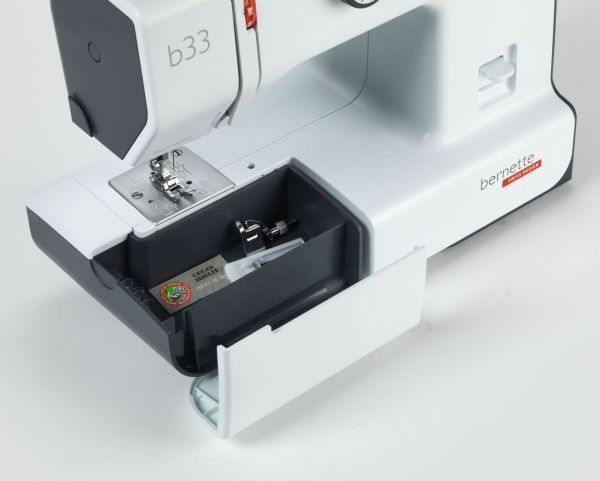 NUMEROUS CONVENIENT EXTRAS ENSURE EVEN MORE SEWING ENJOYMENT
As well as being simple to operate, Bernette 33 offers an easily accessible reverse lever, ample space and an accessory box for storing your sewing tools so that they are always at hand.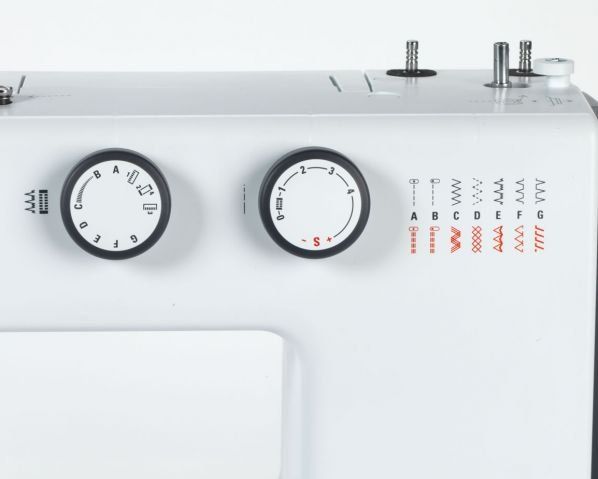 SIMPLE KNOBS FOR ALL SEWING SETTINGS
The two non-slip knobs make it easy to adjust the stitch type and length. The 4-step buttonhole function can also be adjusted as you sew, with a simple turn of the knob.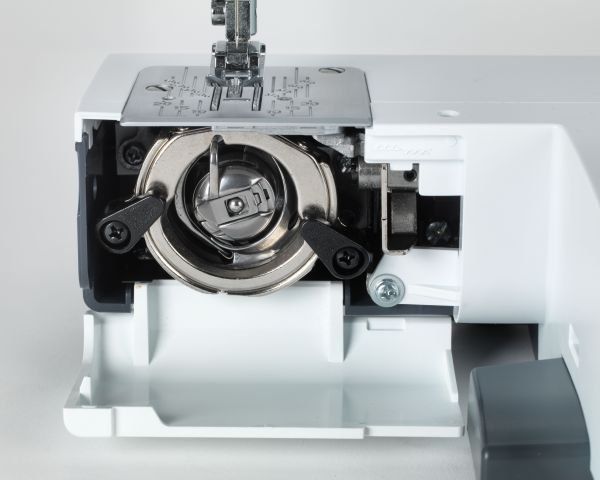 5MM STITCH WIDTH
Especially useful for decorative sewing, create beautiful borders and appliqués with next to no effort.
Stitch Overview bernette 33

 Bobbing winding and threading (1/7)
Selecting and sewing stitches (5/7)