BERNINA 009DCC FEATURES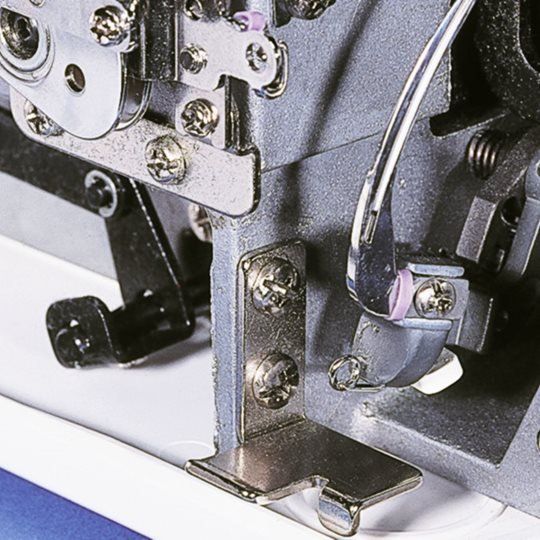 AUTOMATIC CHAIN LOOPER THREADER
With the BERNINA 009DCC's fuss-free automatic chain looper threader, you'll stay cool during the threading process, while getting to know one of the nicest sides of the 009DCC – its amazing user-friendliness. The 009DCC virtually threads itself, with just a little help from you. Flip open the lid, press down the threader, thread the looper, release the threader, and that's it – threading has never been so easy! Yet another way in which sewing with the BERNINA 009DCC is a pleasure right from the start.
FLAT JOINING SEAM WITH COVER STITCH
An old problem – what good is soft fabric if the seams rub? With the BERNINA 009DCC's cover stitch, you can say goodbye to prickly seams in sweatpants, sweaters and pyjamas. The 009DCC lets you easily flat join seams that won't rub, guaranteeing optimum comfort against your skin. With the BERNINA 009DCC, not only can you ensure that your own creations are super-soft to wear; you can also fix that new summer dress or those leggings which feel scratchier at home than when you tried them on at the store.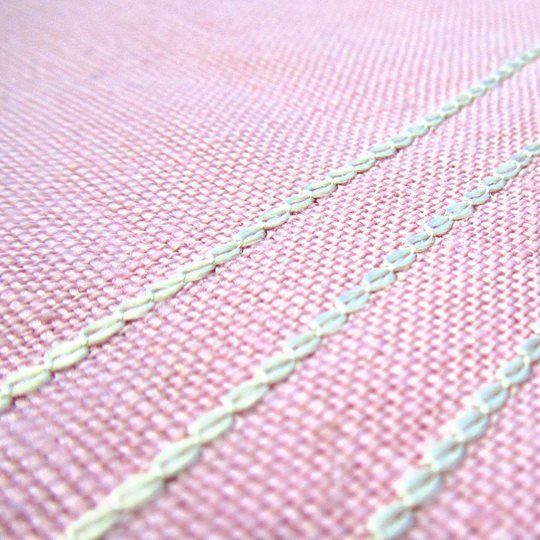 SIMPLE HEMMING WITH THE CHAIN STITCH
Sometimes, clothing or home décor items require a fine hem finish. The BERNINA 009DCC ensures a sharp-looking finish when a particularly neat and tidy look is important. The chain stitch is also ideal for use with knit fabrics. What's more, using elastic thread in the chain looper allows you to create elastic seams where freedom of movement is required – when designing and sewing your own sweatpants, for example. It also lets you whip up stylish gathered effects.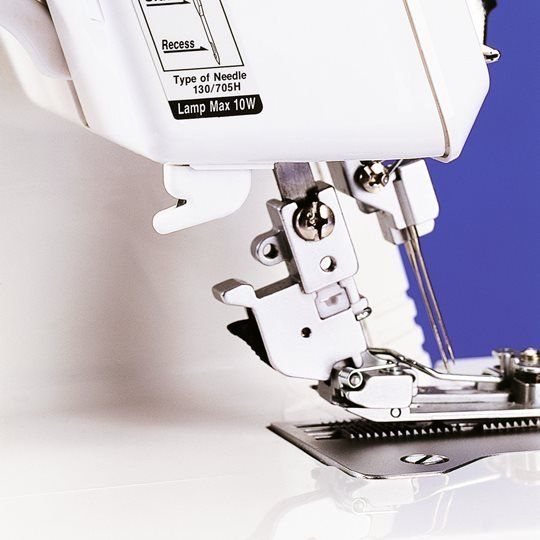 ADJUSTABLE SEWING SPEED
Sewing up to 1500 stitches a minute is a piece of cake for the BERNINA 009DCC. As impressive as this is, sometimes you may prefer to slow the pace a bit. With the BERNINA 009DCC, sewing speed is infinitely adjustable via the foot control, so you can always sew at the pace that's best for you. In case you were wondering, this has no effect on the needle penetration power of the 009DCC, which remains the same whether you sew quickly or slowly. Even with heavy fabrics, the 009DCC ensures that you achieve precise results, with no fear of losing control of the speed.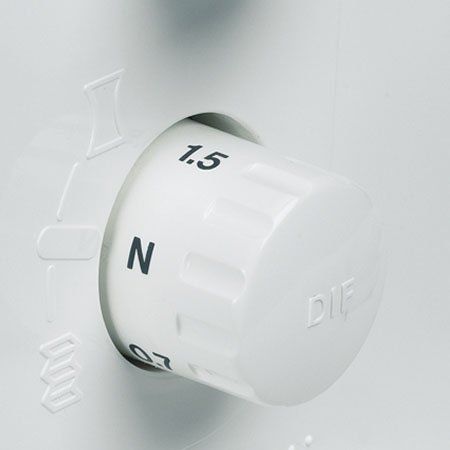 DIFFERENTIAL FEED
What do you do when fabric waves or puckers while it's being sewn? This often happens with knits or fine fabrics, and it's annoying when you want everything to look picture-perfect. With the BERNINA 009DCC, you can simply "tune out" effects like this, thanks to the infinitely variable differential feed. You can even do this while you're sewing – simply "tune" the BERNINA 009DCC's differential feed dial on the outer right hand side of the serger as necessary. This way the fabric only gathers when you want it to, since – conveniently – the same control used to prevent puckering is also used to achieve a controlled gathering effect.