The F1 Series is a direct-drive type with a maximum sewing speed of 5,000sti/min
 The direct-drive motor system has been adopted in all of the sewing machines. As a result, the sewing machine starts up swiftly and promises increased stop accuracy, thereby demonstrating improved responsiveness. The sewing machine has been integrated with the control box and the operation panel for ease of use.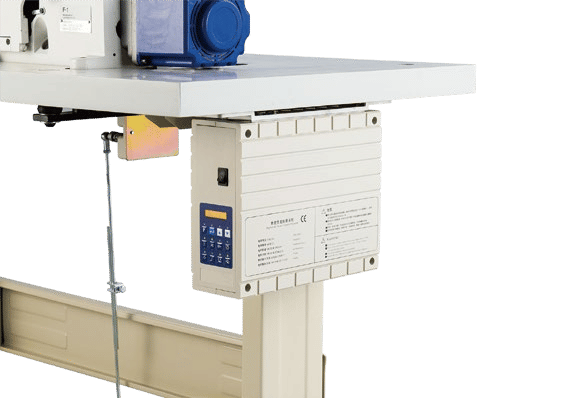 LED light 
 The LED light is located on the underside of the arm jaw. It reduces operator fatigue and improves work efficiency. It is provided as standard for all models of the F1 Series.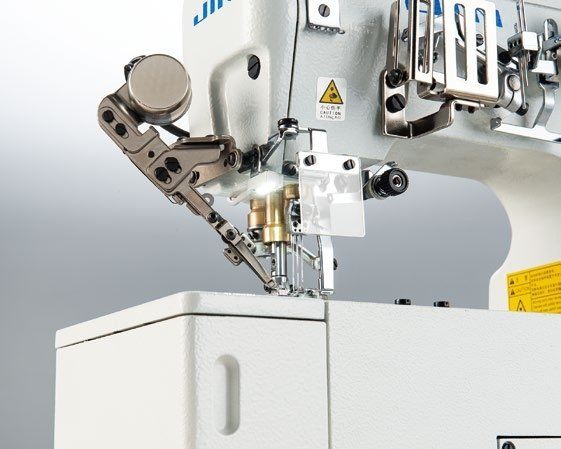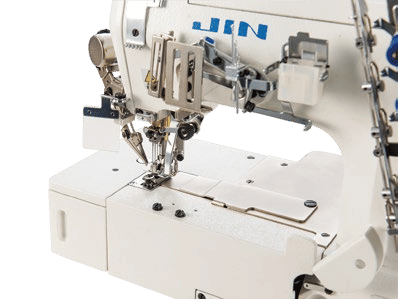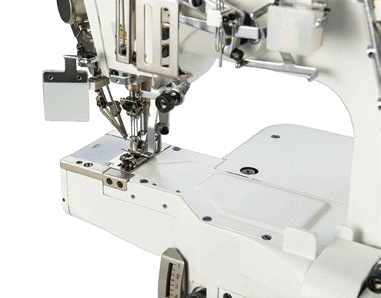 Universal type (basic type) T-shirts ,Polo, shirts, knitwear 
The machine can be used for the hemming process of the sleeves and bottoms of T-shirts and the covering process for sportswear and knitwear. It is not a specific-purpose model, but a basic one which can be used for a broader range of processes independently.
For hemming (with a left-hand fabric trimmer) T-shirts Polo shirts
This model is best suited to hemming processes for sleeves and the bottoms of T-shirts, Polo shirts, etc. It comes with a left-hand fabric trimmer for trimming fabric in parallel, at all times, to the seam with consistency. The upper knife stroke can be adjusted with ease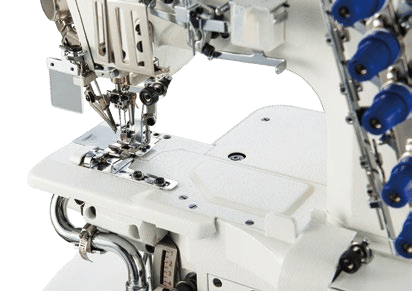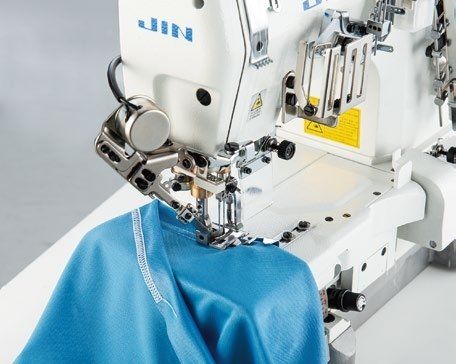 For collarette attaching (knitwear, briefs)
This model is best suited for attaching collarettes to underwear, briefs and knitwear. Ease of use is further improved by using the pneumatic type tape cutter
For elastic lace attaching (with right-hand fabric trimmer) Ladies' innerwear, Shorts
This model is best suited for the sewing of elastic lace in shorts and underwear. The right-hand fabric trimmer cuts the multi-layered part of a joined section with outstanding consistency. Beautifully finished products are achieved with the seams and material edges aligned. The right-hand fabric trimmer mechanism's easy installation/removal of the entire unit facilitates the adjustment of related parts, such as the alignment of a looper. The machine can also be used for collarette-attaching processes by removing the knife unit. (Replacement of the gauge and cover is required.)