About
Groz Beckert is the world's leading provider of industrial machine needles, precision parts and fine tools. Also, it is well known for its efficient systems and services for the production and joining of textile fabrics. In addition, Groz Beckert offers its customers a comprehensive partnership, without boundaries and on-site in over 150 countries. Everything comes together at the headquarters in Albstadt, Germany. The family-owned company also has further production sites in Germany, Belgium, the Czech Republic, Portugal, the USA, India, China, and Vietnam. As well as numerous sales affiliates and sales partners complement international presence.
Sewing machine needles from Groz-Beckert
Sewing machine needles have formed part of Groz-Beckert's manufacturing program for over 35 years now. Whether traditional underwear, high-quality suits, shoes or technical textiles – with a product portfolio of around 3,000 sewing and shoe machine needles, Groz-Beckert offers the right product for every application.
Sewing machine needles from Groz-Beckert are always produced with the latest technology and maximum precision and have always boasted top-notch quality. Through regular further developments and innovations, the company has thus established itself as a leading provider in the field of sewing machine needles.
But not just this comprehensive and top-notch product program makes Groz-Beckert an indispensable partner. A wide range of services, such as the sewing and joining service and the customer portal, top off the outstanding offering. The patented INH Quality Management developed by Groz-Beckert for handling sewing machine needles in sewing plants also reflects the innovative force of Groz-Beckert.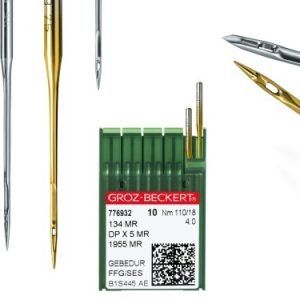 Product variety
Sewing machine needles come in many different types. Generally, they can be classified based on their sewing application, such as:
Chainstitch needles (UY 121, UY 128, B 63, 149×5, 149×7)
Lockstitch needles (DBx1, 134, 134-35, 135×17, 1738)
Embroidery machine needles (DBxK5, 287 WKH)
Overlock needles (B 27, UY 154)
Blind stitch needles (29 BL, 251, 1669 E EO)
Sewing machine needles are also available in different sizes and point styles (cloth points and cutting points) to suit the relevant material to be processed. Groz-Beckert also offers different special application needles (SAN®), with a geometry adapted to special applications.
More information on the variety of products and the individual sewing machine needles is available in the corresponding application field: