ABOUT SIRUBA SEWING MACHINE
We are KAULIN MFG. CO. LTD. is also known as "SiRUBA" for our acclaimed industrial sewing machine brand. SIRUBA was found in 1965, and for half a century it has developed and manufactured industrial sewing machines now. The ultimate aim of the company has been to provide services and solutions all around the world to its customers.
Technologies are advancing consequently. In this transformative era, industrial sewing machines are evolving rapidly. When facing strong challenges through continuous growth and evolution, SIRUBA has always kept the faith of its customers Click here to know more about SIRUBA
CYCLE SEWING | CONTINUOUS SEWING   
20 different programs can be registered, and as many as 15 different patterns can be stored in one program.
The machine is able to continuously sew many different patterns without requiring the work clamp foot to be lifted. As many as 20 programs can be registered, and 6 different patterns can be stored in one program. (Related parts need to be exchanged for optional ones.)
High Speed and Clean
Max. 4,200sti/min, Normal 3,600 stitch /insubstantially decreased.Advanced dry-head technology, no lubrication is required except for the hook section. This eliminates oil stains on the sewing product.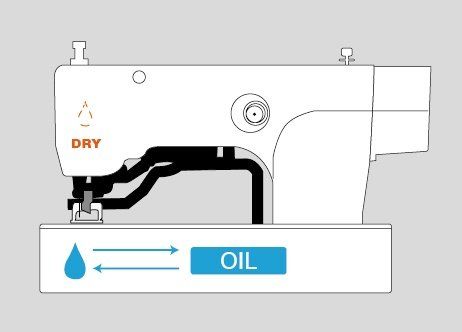 All drive mechanism is electronically
An electronic control feature has been adopted for the material feed mechanism, needle rocking mechanism, needle thread trimming mechanism, bobbin thread trimming mechanism, cloth cutting knife mechanism and presser bar lifting mechanism., All adjustment values are entered as data. They can be set or stored in the memory on the operation panel.
Many functions of the pedal
The machine is provided as standard with auto-lifter driven by a stepping motor. This helps reduce the operator's fatigue. As for the pedal, 1-pedal and 2-pedal modes can both be changed over and the intermediate stop, which facilitates positioning of the sewing product, can be specified. The work clamp foot lift can be set as desired. The reverse-rotation needle-up function offers a maximum work clamp foot lift of 17mm.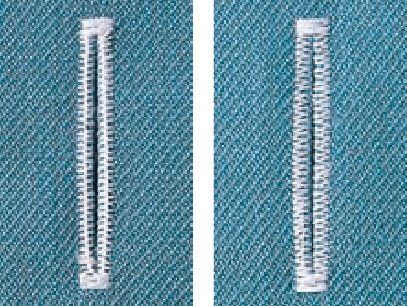 Purl stitching ←→ Whip stitching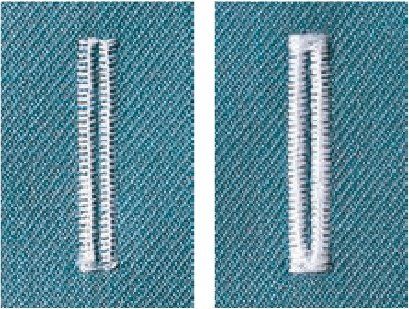 Single stitching → Double stitching
PRODUCT SPECIFICATION