LZ-2280A The machine produces high-quality soft seams.
Standard / Standard wider zigzag
The standard zigzag stitching machine creates softly finished seams. The needle rocking mechanism is provided with a triangular cam which helps produce beautiful seams with consistency.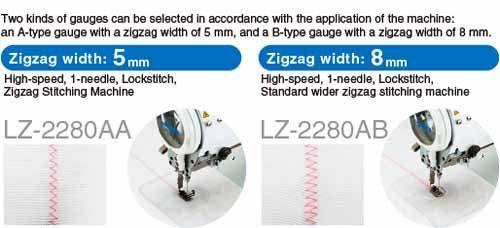 The adjustable range of the feed mechanisms has been widened, thereby upgrading the machine's responsiveness to materials
The feed mechanism has been improved by widening the adjustable range of the height and inclination of the feed dog. The feed locus has been optimized while placing great emphasis on the feed locus at the moment the needle penetrates the material to form a stitch. The weight of the feed mechanism has been reduced by using parts most of which are made of aluminum material. This facilitates sewing of overlapped sections of material that have to be securely held between the presser foot and the feed dog during sewing.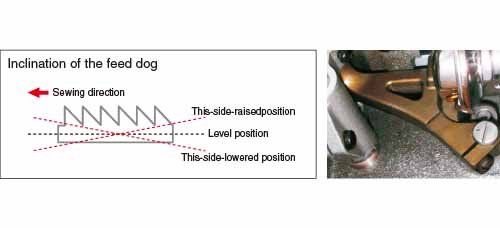 Adjustment for various feed timings
Marker lines engraved on the face plate and the pictorial indication facilitate adjustment of the needle-to-feed timing and the hook timing.
Adjustment of oil quantity in the hook
Oil feeding path of the LZ-2280A Series has been reviewed to enable feeding of consistent quantity of oil.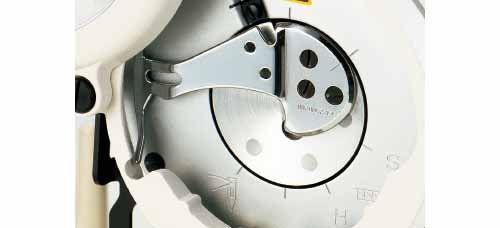 The sewing machine produces soft seams with consistency with a low tension applied to the thread
Problems which are associated with low-tension sewing such as "double-catching" and "irregular stitches", as well as factors which affect seam quality such as "thread path", "thread bending resistance", "feed locus", "needle locus" and "timing" have been thoroughly reviewed, thereby successfully producing soft seams. The machine has adopted JUKI's established genuine hook and thread take-up lever.