Corresponds to that efficiently sews longitudinal buttonholes
The machine head has a wider space under the work clamps to permit easy placement of a sewing product, thereby improving workability.
The semi-sunken machine head promises easy placement and smooth handling of sewing products. Pistol pocket sewing of finished product became easier.
The amount of material opened can be easily adjusted using the screw mounted outside the machine head.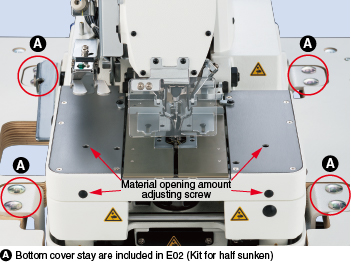 Improved viewability around the needle entry
Projection of the arm frame of the machine head has been reduced. In addition, the cloth cutting knife is located closer to the operator side as compared with the conventional model.
Viewability, when placing the material on the sewing machine, is improved, thereby contributing to improved workability. In addition, the thread clamp mechanism of the needle thread clamp (optional) has been improved for better viewability.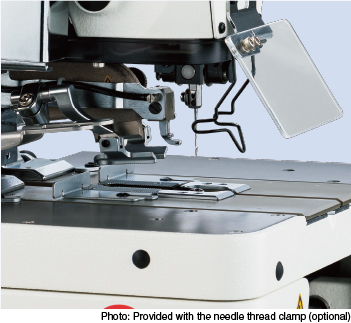 Adjustment of Cloth Cutting knife 
When the blade of the cloth cutting knife wears, It can be adjusted by changing the height of the spacer.
Latch type bottom cover
A latch-type bottom cover is adopted. Daily maintenance (threading, adjustment of the looper thread, cleaning, etc.) can be carried out without raising the machine head.
Excellent Maintainability
The Computer Controlled Design Eliminates Most Of The Complicated Mechanisms.
This Dramatically Improves Maintainability.
The Machine Head Is Supported By A Gas-Spring That Makes It Easy To Raise For Smoother Cleaning And Threading. The Tilted Up Machine Head Can Safely Take Down Thanks To The Mechanical Lock.